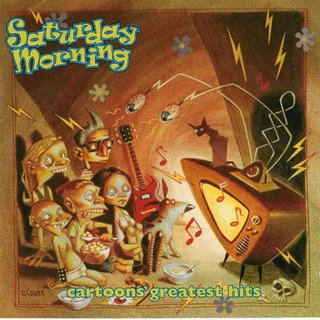 1-Liz Phair with Material Issue - The Tra La La Song (One Banana, Two Banana) (from The Banana Splits Adventure Hour)
2-Sponge - Go Speed Racer Go
3-Mary Lou Lord with Semisonic - Sugar Sugar(from The Archies)
4-Matthew Sweet - Scooby-Doo, Where Are You?
5-Juliana Hatfield and Tanya Donelly - Josie and the Pussycats
6-Collective Soul - The Bugaloos
7-Butthole Surfers - Underdog
8-Helmet - Gigantor
9-Ramones - Spider-Man
10-Reverend Horton Heat - Jonny Quest/Stop That Pigeon
11-Frente! - Open Up Your Heart and Let the Sun Shine In (from The Flintstones)
12-Violent Femmes - Eep Opp Ork Ah-Ah (Means I Love You) (from The Jetsons)
13-Dig - Fat Albert Theme
14-face to face - I'm Popeye the Sailor Man
15-Tripping Daisy - Friends/Sigmund and the Seamonsters
16-Toadies - Goolie Get-Together (from The Groovie Goolies)
17-Sublime - Hong Kong Phooey
18-The Murmers - H.R. Pufnstuf
19-Wax - Happy, Happy, Joy, Joy (from The Ren and Stimpy Show)
Este es un compilado con temas de caricaturas de la infancia de todos hechos por bandas de rock de diferentes estilos, podemos encontrar temas hechos por THE RAMONES, SUBLIME, VIOLENT FEMMES, FACE TO FACE, entre otras. Otro disco muy bueno para recordar esas viejas caricaturas!!
Descarga - 60.1mb
LINK PROXIMAMENTE